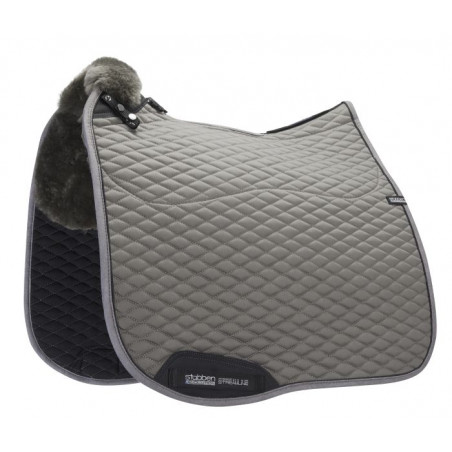  
Stübben Streamline Lambswool Dressage Pad
Washing instructions: Wash the Lambskin Saddle pad only in the wool wash cycle (max. 30 degrees Celsius) or by hand with a lambskin detergent.
Do not tumble dry or tumble dry on a heater.
Scope of delivery incl. saddle component
Material composition:
Outer material: 70 % cotton, 30 % polyester
Filling: 100 % polyester
Fur: 100 % natural lambskin from Australian Merino sheep
Size:
M: for saddles with a seat size up to 17"
L: for saddles with a seat size of 17.5" or more
Info about the white Saddle Pad: In order to prevent stains and to achieve an optimal washing result, we have used a poly-cotton edging instead of the velour edging for the white saddle pads.
Premium Streamline Lambskin Saddle Pad Dressage
The premium Streamline Lambskin Saddle Pad Dressage impresses with its stylish and high-quality design. The soft lambskin on the saddle surface gives the Saddle Pad optimum pressure distribution, reduces friction and at the same time has a temperature-regulating and breathable effect.
Streamline Technology
The Streamline Technology was developed to enable a stable connection between the saddle pad and saddle while minimizing sliding and friction. Thanks to the Velcro strip on the topline in the lumbar region in conjunction with the saddle component, an unprecedented level of comfort under the saddle is achieved. During riding, the saddle pad remains chambered and does not pull up onto the withers or into the lumbar area of the horse. This protects the sensitive area around the spine, providing the horse with freedom of movement.
The Streamline Lambskin Saddle Pad is equipped with a soft velour edging, a fashionable piping band, reinforced girth and swirl channel zones as well as adjustable press stud fastenings on the breastplate drop rings.
The scope of delivery includes the Streamline Lambskin Saddle Pad as well as the corresponding Saddle Component.